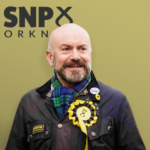 Tuesday 29th April at 8 pm.
This is your chance to ask your SNP candidate Robert Leslie those awkward questions you think he can't answer.
An independent Scotland is the only route to a fairer and more equal society. The SNP is dedicated to meeting your needs whoever and wherever you are. Join us and find why we want this and how it can be achieved.
---
---